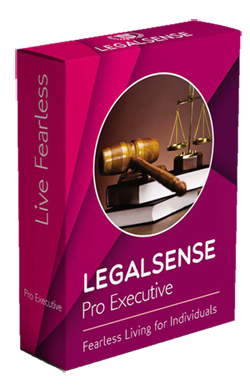 Fearless Living for Individuals
"We have specially created this service for individuals, who believe in having Hassle free and successful ife. LegalSense - Pro Executive allows individuals to get Legal services, from Civil Law to Criminal Law.
Criminal Law | Civil Law | Investigation | Legal Documentation
LegalsenseTM
Pro Executive
Pro Executive Package
Criminal Law
Cheating & Financial Fraud
Misuse of Documentation/Forgery
Violence & Physical offense
Extortion & Threats
Burglary(HB & Theft)
Kidnapping
Sexual harassment / Child abuse
Accident / incidents
Cyber crime
Property dispute & litigations related crimes

Civil Law
Contract & Service Laws
Cheque Bouncing
Family law
Consumer Laws
Recovery Act
Labour & Employment Laws
IPR / Trademark & Copyright Laws
Right to Information Act
Property and Real Estate law
Co-Op. Society laws
N.G.O and Trust Laws

Investigation
Criminal & Educational Verification
Employee police Verification
Trademark & Copyright Investigations
Loss & Theft Investigations
Property Title verification
Insurance Fraud
Pre Matrimonial Post Marriage Investigation
Evidence Collection
Shadowing

Legal Documentation
Rental Agreements
Deeds/Affidavits/Wills/POA
Employee & other Confidentiality
Notary of Documentation
Legal Notice for Recovery of Dues
Cheque Bounce, Faulty Product Services
Other Legal Notices
1 Year Package Includes

1 FREE

deed/will/affidavit/ P.O.A.

2 FREE

sales/rental/employee/business agreements

3 FREE

documentation verification

5 FREE

demand/recovery/faulty product or services/other legal notices

5 FREE

employee/person police verifications

10 FREE

notary documents

Get FREE Consultation

for all topics related to criminal, civil, investigation and legal documentation

Get 40% Discount

on advocate fees for all court cases

on advocate and retired police personnel's visit to police station for criminal cases

Get any of 5 free out of 10

criminal law topics (police complaints) documentation for police station

civil law topics notices for court

BENEFITS YOU GET

1. Complete backup of Retired Police Personnel's, Advocate and other professionals

2. Protection from any kind of threats, frauds and losses.

3. Save your money form unwanted legal issues

4. Save your time from complicated procedure of various Govt. department

5. Protection from unwanted stress of legal issues

6. Growth in your professional and personal life
NOTE: Per date Advocate & Ex-Police Personnel's Expenses of minimum Rs. 1500 & Rs. 750 respectively, the miscellaneous expenses towards the typing,
Xerox, Case filing, processing fees, postages government fees, court fees, stamp duty, registration fees and other charges will be borne by the client.